Runolfur Palsson, M.D., FACP, FASN
---
Biography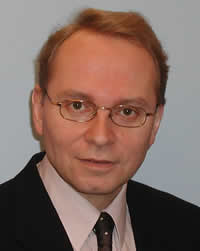 Runolfur Palsson is Associate Professor of Medicine at the University of Iceland Faculty of Medicine and Chief of the Division of Nephrology at Landspitali University Hospital. He is also Director of the Organ Transplantation Program and Associate Director of the Internal Medicine Training Program at Landspitali University Hospital. Dr. Palsson received his Medical Degree from the University of Iceland in 1985 and subsequently completed a two-year internship in internal medicine, surgery, and pediatrics at the National Hospital and Reykjavik Hospital, and in family medicine at the Keflavik Health Care Center. He then served a one-year residency in internal medicine with emphasis on diabetes and nephrology at the National Hospital in Reykjavik. Dr. Palsson continued his postgraduate education in the US, where he completed a residency in internal medicine at Hartford Hospital and University of Connecticut in 1991, and a fellowship in nephrology at Massachusetts General Hospital and Harvard Medical School in Boston in 1996. He was Consultant in Nephrology at the Reykjavik Hospital from 1996 to 1998 and at Landspitali University Hospital from1998 until 2004, when he was appointed Chief of the Nephrology Division. Dr. Palsson's research focuses primarily on the epiemiology of chronic kidney disease and the epidemiology and genetics of kidney stones.
Dr. Palsson has served as President of the Icelandic Society of Internal Medicine since 2001. He was elected Secretary of the European Union of Medical Specialists Section of Internal Medicine in 2008. He is a member of the Administrative Council of the European Federation of Internal Medicine and the European Board of Internal Medicine. Dr. Palsson is a Fellow of the American College of Physicians and the American Society of Nephrology, and an Honorary Fellow of the European Federation of Internal Medicine.
---
Selected Peer Reviewed Publications
Daouk GH, Palsson R, Arnaout MA. Inhibition of neutrophil proteinase 3 by anti-neutrophil cytoplasmic antibodies (ANCA) and its relevance to disease activity in Wegener´s granulomatosis. Kidney Int 1995;47:1528-1536.
Palsson R, McLaughlin M, Sharma CP, Brown D, Arnaout MA. Characterization and cell distribution of Polycystin, the product of autosomal dominant polycystic kidney disease gene 1. Molecular Med 1996;2:702-711.
Sonderbye L, Meehan S, Palsson R, Ahsan N, Ladefoged J, Langhoff E. Immunohistochemical study of actin binding protein (p55) in the human kidney. Transplantation 1998;65:1004-1008.
Palsson R, Niles JL. Regional citrate anticoagulation in continuous venovenous hemofiltration (CVVH) in critically ill patients with high risk of bleeding. Kidney Int 1999;55:1991-1997.
Fossdal R, Böðvarsson M, Ásmundsson P, Ragnarsson J, Pálsson R. Blöðrunýrnasjúkdómur með ríkjandi erfðamáta á Íslandi - erfðafræðileg rannsókn [Autosomal dominant polycystic kidney disease in Iceland – genetic study]. [Icelandic]. Laeknabladid 1999;85:33-42.
Palsson R, Jonasson JG, Kristjansson M, Bodvarsson A, Goldin RD, Cox DW, Olafsson S. Genotype-phenotype interactions in Wilson's disease: insight from an Icelandic mutation. European J Gastroenterol and Hepatol 2001;13:433-436.
Edvardsson V, Palsson R, Olafsson I, Hjaltadottir G, Laxdal T. Clinical features and genotype of adenine phosphoribosyl-transferase deficiency in Iceland. Am J Kidney Dis 2001;38:473-480.
Palsson R, Choi HK, Niles JL. Opportunistic infections are preceded by a rapid fall in antineutrophil cytoplasmic antibody (ANCA) titer in patients with ANCA associated vasculitis. J Rheumatol 2002;29:505-510.
Magnason RL, Indridason OS, Sigvaldason H, Sigfusson N, Palsson R. Prevalence and progression of chronic renal failure in Iceland: A population based study. Am J Kidney Dis 2002;40:955-963.
Tryggvason G, Indridason OS, Thorsson AV, Hreidarson AB, Palsson R. Unchanged incidence of diabetic nephropathy in Type 1 Diabetes: a nation-wide study in Iceland. Diabet Med 2005;22:182-187.
Edvardsson V, Elidottir H, Indridason OS, Palsson R. Kidney stones in Icelandic children. Pediatr Nephrol 2005; 20:940-944.
Viktorsdottir O, Palsson R, Andresdottir MB, Aspelund T, Gudnason V, Indridason OS. Prevalence of chronic kidney disease based on estimated glomerular filtration rate and proteinuria in Icelandic adults. Nephrol Dial Transplant 2005;20:1799-807.
Palsson R, Laliberte-Murphy KA, Niles JL. Choice of replacement solutions and anticoagulation in continuous venovenous hemofiltration. Clin Nephrol 2006;65:34-42.
Indridason OS, Birgisson S, Edvardsson V, Sigvaldason H, Sigfusson N, Palsson R. Epidemiology of kidney stones in Iceland – a population-based study. Scand J Urol Nephrol 2006;40:215-220.
Sigmundsson TS, Palsson R, Hardarson S, Edvardsson V. Cyclosporine-induced remission of severe proteinuria in a patient with X-linked Alport syndrome. Scand J Urol Nephrol 2006;40:522-525.
Palsson R, Kellett J, Lindgren S, Merino J, Semple C, Sereni D for the EFIM/UEMS Working Group on Competencies in Internal Medicine in Europe. Core competencies of the European internist: A discussion paper. European J Int Med 2007;18:104-8.
Kristinsson J, Palsson R, Gudjonsdottir GA, Blondal M, Gudmundsson S, Snook CP. Acute poisonings in Iceland: a prospective nationwide study. Clinical Toxicology. Clin Toxicol 2008;46:1-7.
Kramer A, Stel VS, Tizard J, Verrina E, Rönnholm K, Pálsson R, Maxwell H, Jager KJ. Characteristics and Survival of Young Adults who started Renal Replacement Therapy during Childhood. Nephrol Dial Transpl. 2008;doi: 10.1093/ndt/gfn542.
19. Thorleifsson G, Holm H, Edvardsson V, Walters GB, Styrkarsdottir U, Gudbjartsson DF, Sulem P, Halldorsson BV, de Vegt F, d'Ancona FCH, den Heijer M, Franzson L, Christiansen C, Alexandersen P, Rafnar T, Kristjansson K, Sigurdsson G, Kiemeney LA, Bodvarsson M, Indridason OS, Palsson R, Kong A, Thorsteinsdottir U, Stefansson K. Sequence variants in the CLDN14 gene associate with kidney stones and bone mineral density. Nat Genet 2009; 41(8):926-30. Epub 2009, Jun 28.
20. Edvardsson VO, Palsson R, Indridason OS, Thorvaldsson S, Stefansson K. Familiality of kidney stone disease in Iceland. Scand J Urol Nephrol 2009;43: 420-424.
21. Kramer A, Stel V, Zoccali C, Heaf J, Ansell D, Grönhagen-Riska C, Leivestad T, Simpson K, Pálsson R, Postorino M, Jager K. An update on renal replacement therapy in Europe: ERA-EDTA Registry data from 1997 to 2006. Nephrol Dial Transpl 2009; 24:3557-66.
22. Heidarsdottir R, Arnar DO, Skuladottir GV, Torfason B, Edvardsson V, Gottskalksson G, Palsson R, Indridason OS. Does treatment with n-3 polyunsaturated fatty acids prevent atrial fibrillation after open heart surgery? Europace 2010;12:356-63. Epub 2010, Jan 7.
23. Semple C, Gans R, Palsson R for the European Board of Internal Medicine. European Board guidance for training centres in internal medicine. Eur J Intern Med 2010, doi:10.1016/j.ejim.2009.11.009. Eur J Intern Med Advance Access, published online on 13 February 2010.
24. Wetmore JB, Palsson R, Belmont JM, Sigurdsson G, Franzson L, Indridason OS. Discrepancies between creatinine- and cystatin C-based equations: implications for identification of CKD in the general population. Scand J Urol Nephrol 2010;44:242-50.
25. Gudbjartsson DF, Holm H, Indridason OS, Thorleifsson G, Edvardsson V, Sulem P, de Vegt F, d'Ancona FCH, den Heijer M, Franzson L, Rafnar T, Kristjansson K, Bjornsdottir US, Eyjolfsson GI, Kiemeney LA, Kong A, Palsson R, Thorsteinsdottir U, Stefansson K. Association of variants at UMOD with chronic kidney disease and kidney stones; Role of age and comorbid factors. PLoS Genet 2010; 6: e1001039.